Jurassic World: Dominion Dominates Fandom Wikis - The Loop
Play Sound
The Wedding
The Wedding is the third area in LittleBigPlanet, based on The Day of the Dead.

The Creator Curator of this theme is Frida the Bride.
Story & Theme
This area is based on the Mexican holiday The Day of the Dead. The background is a church. You can see graves towards the left and right of the background. (In LBP2 and LBP3 it is foggy by default.) Frida asks you to find Don Lu as he went down into The Darkness. It turns out he got lost, so Sackboy helps him out. Frida thinks that Don Lu ran off without her, so she goes on a rampage with the Skulldozer. Don Lu then explains it was all a misunderstanding and goes to their honeymoon in The Canyons, inviting Sackboy along as well.

This theme reappears in LittleBigPlanet Karting and LittleBigPlanet 3: The Journey Home. In LittleBigPlanet Karting, Frida and Don Lu return from their honeymoon, only to find their presents were stolen by The Hoard. The Queen tells you that it's too late to bring the presents back but you can still scare them out.
Creator Curator: Frida the Bride
Level Links
LittleBigPlanet Levels
LittleBigPlanet Minigames
LittleBigPlanet Karting Levels
LittleBigPlanet 3: The Journey Home Levels
LittleBigPlanet 3: The Journey Home Minigames
Collectables - Number of Items:
Stickers
Big Chin Skeleton
Blue Flame (The Journey Home)
Blue Piñata Motif
Bowler Hat
Bowler Hat
Bow (LBPK Only)
Calavera the Wrestler
Cartoon Bone
Confused Skull
Decorative Curl (The Journey Home)
Flower Frame
Graveyard Tux
Green Piñata Motif
Green Skulls
Green Skull 1 (LBPK Only)
Green Skull 2 (LBPK Only)
Green Skull 3 (LBPK Only)
Half Moon
Hay Mas Tiempo Que Vida (The Journey Home)
Hojaldra
Leaf Pattern (The Journey Home)
Los Muertos
Marigold (The Journey Home)
Marigold Cluster (The Journey Home)
Nostril (The Journey Home)
Owl Drawing
Petal Pattern (The Journey Home)
Pink Piñata Motif
Pink Present 1 (LBPK Only)
Pink Present 2 (LBPK Only)
Pirate Skull
Pixel Skull
Piñata Dog
Psycho Bunny
Purple & Orange Piñata Motif
Purple Piñata
Purple Piñata Motif
Purple Skull Arm
Purple Skull Skirt
Purple Skull Torso
Purple Stuff
Red Coffin
Red Piñata Motif
Red X
Saint
Scary Skull
Skeleton Hand
Skeleton Hat
Skeleton Hip Bone
Spotty Skull Leg
Standing Skeleton
Treasure Box Body
Treasure Box Inside
Treasure Box Lid
Turquoise Flower (The Journey Home)
Twirly 'Tache (The Journey Home)
White Teeth (The Journey Home)
Decorations
Coffin Handle (The Journey Home)
Eyeball (The Journey Home)
Glowing Eye - Circle (The Journey Home)
Glowing Eye - Semicircle (The Journey Home)
Grey Ghost
Marigold (The Journey Home)
Real Bone (The Journey Home)
Red Candle (LBPK Only)
Rib (The Journey Home)
Skeletal Finger (The Journey Home)
Skeleton Arm
Skeleton Leg
Skeleton Torso
Skull
Skull Candle 1 (The Journey Home)
Skull Candle 2 (The Journey Home)
Skull Candle 3 (The Journey Home)
Skull Papel Picado (The Journey Home)
Tall Candle (The Journey Home)
White Flower
Yellow Dandelions
Yellow Flower
Objects
Balloon Launcher
Bed of Nails (LBPK Only)
Bowler-Hatted Skeleton
Bull Skull
Butler
Candle Stick
Ceramic Skull (The Journey Home)
Deadly Bat
Dismembered Hand
Don Lu
Don Lu's Dog
Fiesta Fence (LBPK Only)
Frida (LBPK Only)/Frida the Bride
Frida the Bride/Frida (LBPK Only)
Frida, Don Lu & The Butler
Large Balloon
Little Butler
Medium Balloon
Picture Frame
Real Bone
Red Balloon (LBPK Only)
Red Candle
Screaming Skull
Seated Skeleton (inspired by the Statuette of Mictlantecuhtli in the Museo de Antropología in Xalapa, Mexico, see it in the gallery)
Skeleton Talking Head
Skull Bungie Chord
Skull Lift
Skulldozer
Small Balloon
Spiked Screaming Skull
Stained Glass Bouncy Platform
Stone Fence (LBPK Only)
Sugar Bone
Sugar Skull
Teeter Platform
Tilting Stained Glass Window
Trumpet (The Journey Home)
Ukulele (The Journey Home)
Wavy Davy Skeleton
Materials
Basket (Sponge)
Bevel Concrete (Stone)
Blue Glass (Glass)
Brown Glass (Glass)
Ceramic Mosaic (Stone)
Ceramic Tile (Stone)
Coloured Glass (Glass) (The Journey Home)
Green Glass (Glass)
Light Blue Glass (Glass) (LBPK Only)
Metal Skull Plate (Metal)
Paisley Stitch (The Journey Home)
Paper Weave (Sponge)
Purple Glass (Glass)
Red & Gold Cutout Wood (Wood)
Red Fabric (Sponge)
Red Glass (Glass)
Red Stitched Fabric (Sponge)
Sparkly Card (The Journey Home)
Stained Glass Shards (The Journey Home)
Costumes
Sack Groom
Skin: Zombie Boy
Head: Top Hat
Neck: Bow Tie
Torso: Tuxedo
Sack Bride
Skin: Zombie Girl
Hair: Red Wig
Head: Wedding Veil
Torso: White Wedding Dress
Backgrounds
The Wedding
The Wedding (Journey Home)
Characters
Gallery
Trivia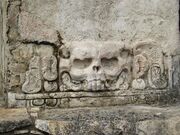 This theme reappears in The Journey Home.
Since The Canyons is already based in Mexico, the globe places this theme in South America.
The Wedding is one of the four main themes used in LittleBigPlanet (theme).
The Savannah only appears in one level in LittleBigPlanet Karting and has it's own background while The Wedding has one level as well but doesn't have it's own background.
This is the second theme to introduce enemies.
The square shape of the skulls whould be inspired by a detail from the Skull Temple from Palenque, a Mayan site