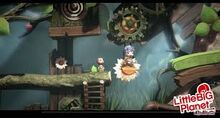 The Land of Odd is the second world in Carnivalia in LittleBigPlanet Vita. It used to be a desert wasteland full of things nobody wanted, but thanks to Marianne, she brought back life to what was broken. It mixes Gardening themes with slight steampunk flavor to it. It's Creator Curator is rag doll like character called Marianne Noisette.
Themed collectable Items
Materials
Bee Comb
Bronze Ornament
Curved Wood Pattern
Cork
Damask - Dark Green Floral
Damask - Yellow Leaves
Fancy Cloth Patchwork
Furry Cloth
Grass Fabric
Leather Couch
Metal Wire
Sheet Metal
Steampunk Metal Details
Steampunk Metal Wall
Tree Bark
Twisted Plant
Velvet Cushion
Objects
Hollow Log
Plant Pot
Pocket Watch
Sharp Stone
Sharp Tooth
Split Log
T-Rex Head
T-Rex Jaw
Tree Branch
Whale Head
Whale Jaw
Stickers
Bark hole
Bead Flower
Bean Pod
Bird Embroldery
Blue Flower
Brass Decor
Buttercup Embroldery 01
Buttercup Embroldery 02
Cloth Butterfly
Cloth Leaf
Clth Vine
Coin
Colour Wave
Copper Edge
Cross Stitch
Decorative Frame
Embroidered Sole
Fancy Frame
Forte Icon
Grey Banner
Ink Etiquette
Ink Square
Kettle Body
Kettle Ear
Kettle Lid
Kettle Tip
Keyhole
Keyhole Sithouette
Knitted Banner
Knitted Heart
Leaf Scriible
Leather Belt
Leather Patch
Leather Seam
Lock of Hair
Metal Scribble
Old Clock Dial
Old Notebook
Paper Flower
Paper House
Paper Window
Pearl
Pink Flower
Rococo Chair
Rococo Frame
Scrapbook 01
Scrapbook 02
Scrapbook 03
Soap Bubble
Stamp
Steampunk Clock Face
Steel Cog
Stitch Ring
Trunk
Vine
Water Lily Embroldery
Wider Stitch
Wooden Cog
Zig Zag Stitch
Decorations
Animal Tooth
Bark Piece
Bell
Birch Leaf
Blackberry
Butterfly
Carved Wooden Leaf
Clock Hand
Crotchet Flower
Curly Plant
Daisy
Feather
Fly Wing
Garden Bush
Grass Tuft
Metal Dome
Metal Railing
Mushroom
Old Tree Branch
Pine Tree Branch
Pinwheel
Rabbit Ear
Raspberry
Rose
Rusty Bend
Rusty Pip
Rusty Spilt
Sprout
Swan Beak
Swan Feather
Swirly Sprout
Tangled Wire
Thin Root
Thorn
Water Lily
Wind Up Key
Levels
"The Land Of Odd has been invaded by The Puppeteer's meddlesome henchmen. They seen to be breaking everythng up and stealing the best bits. Their motives remain a mystery, but The Land Of Odd is in desperate need of help" - LittleBigPlanet PS Vita
"Your new acqiaintance, Marianne Noisette, is quite the little fixer, and this place is fill of her handiwork, But some uninvited guests are causing trouble in her clockwork garden. Are you well trained enough to get there and see whats's going on?" - LittleBigPlanet PS Vita
"You've arrived at Marianne's clockwork paradice, and those nasty little Hollows have ben busy breaking it up and stealing it away! If you don't put a stop to this, there will soon be nothing left of The Land Of Odd." - LittleBigPlanet PS Vita
"In ths 1-player game, use touch to propel your petals up the playing field. If you match 3 or more, they will pop and disappear. But be carefull...if anf reach the bottom of the field, it's game over!" - LittleBigPlanet PS Vita
"With Marianne's latest invention by your side, it's time to start you march towards the source of Marianne's problems - the old mine! This journey will be fraught with danger, but when you've got a touch-guided missile launcher strapped to your head, surely fear is not an option!" - LittleBigPlanet PS Vita
"Having followed the Hollows' trail to the mysterious old mine you must wing your way through the twists and turns of this sinister labyrinth. Use touch to guide Marianne's flying friends through the tunnels, and where all these infernal Hollows are comming from!" - LittleBigPlanet PS Vita
"This game will truly put the wind at your feet! Steer yout hovercraft with the "left stick." Get yourself an extra burst of speed by hitting the boost zones. Now, get hovering!" - LittleBigPlanet PS Vita
"You've finally discovered how these destructive creatures have been getting into Marianne's homeland! So, now it's time to use the Odd Rocket to put it out of commission for ever. It shouldn't be too difficult, it's only a rampaging mine cart with a huge metal drill on its nose!" - LittleBigPlanet PS Vita
"There are no Hollows left in sight, and all seems well after stopping that monstrous drill in its tracks! So, a nice relaxing stroll through the forest seems like the perfect way to unwind, while you figure out where to go next" - LittleBigPlanet PS Vita
Trivia
The Land of Odd was Originally gonna be Fairy-Tale Theme, as seen in Concept Art.