This article may require cleanup to meet the LittleBigPlanet Wiki's quality standards.
Please discuss its issues in the comments.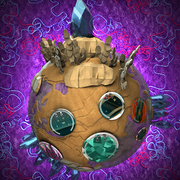 Description
The Cosmos is a world in LittleBigPlanet 2, created by Herbert Higginbotham. It is based mainly on an arcade in the 1980's.
The primary goal of this world is to destroy the Negativitron, the secondary goal is to free Avalon.
Strategy guide description
Space. The Final Frontier. With the help of the newly-disinfected but still half-mad Dr. Herbert Higginbotham, Huge Spaceship can once again take flight. Into the murky darkness of space, the Alliance races towards its final confrontation with the Negativitron.

Only united can the Creator Curators of the Alliance hope to stand a chance against the ravenous beast. With your sack person leading the charge and a sackbot army at its backlegs, it's time to stop running and take the fight to the Negativitron itself. Literally.
Characters
Levels
These are the levels for The Cosmos:
Main levels:
Mini-Games
Music
Main Music
'The Cosmos Interactive Music' by Richard Jacques
'Also Sprach Zarathustra, Op.30' (Theme from '2001: A Space Odyssey') by Richard Strauss / Performed by Ray McVay and his orchestra
'Wood Ringer' by Baiyon
'Automaton' by Lorn
'Planetarium' by Squarepusher
'Finale' from 'The Gadfly Suite', Op. 97a by Dmitri Shostakovich
'Elevate This' by Kenneth Young
'New Family' by Plaid
'What Are You Waiting For' by MCLD (My Cheap Little Dictaphone)
Cinematic Music
The Future
Disaster Strikes
Suspense
Trivia
The original name for this zone was "Hand-made Arcade".
This is the only zone in story mode that does not have a survival or score challenges; instead, it has three versus levels.
This and The Factory of a Better Tomorrow, are the only worlds in LittleBigPlanet 2 that are not named by its Creator Curator.
Gallery