The Carnival is the last theme in LittleBigPlanet (PSP), where the Carnival of Creators takes place. This theme is based on Brazil, especially in Rio de Janeiro.
The first level is Crashing the Party, a level where you arrive in The Carnival and need to start creating a parade float; followed by Road To Joy, where you add finishing touches to your parade float. The final level is The Procession, the final level of LittleBigPlanet (PSP). In this level, begins the parade and the credits.
Story
After saving the Leading Lady from Ron, Sackboy takes a plane to the Carnival of Creators where he has to get his float ready for showtime, however he is still missing a few things, so he has to help the Creator Curators with their floats so that they help him with his.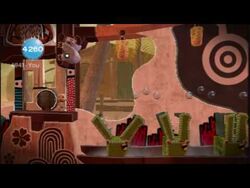 Levels
Mini Games
Trivia