This page is a candidate for deletion.
If you disagree with its candidacy, please explain why at its comment section, or improve the article.
Remember to check
what links here
and
the page history
before deleting.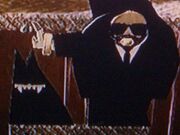 The Bouncers' Dog is a minor character in The Metropolis. It is a mean-looking black dog that is only seen once in the story and does not have part in the game. He can be seen in front of The Bouncers in Lowrider, just before the race with Ze Dude starts.
He died, due to unknown circumstances in 2010. His body can be found at Latitude: -42.59766, Longitude: -67.77430, Distortion: 1.85