The Bazaar is the third area in LittleBigPlanet (PSP) and the Creator Curator is The Genie. The player first comes here after you give the dragon its egg in The Orient, then the dragon gives the player a ride to come here. This area is based on Iran.
The First level is Cheeky Monkey, where you chase a thieving monkey; Followed by Thieves' Den, where you retrieve Sultan's lamp. The final level is High on Rugs, where you are introduced to The Genie and the Magic Carpet.
Characters
The Genie (Creator Curator)
Sultan Orvswing
Monkey Thief King
Pizza Delivery Boy
Monkey Thief
Merchant
Levels
Minigames
Music
Bettitogor Agil

by Ali Hassan Kuban

2 Sips & Magic

by Nicodemus feat. The New York Gypsy Allstars

Hear No Evil

by Jim Fowler

Fiddler's Elbow

by Jim Fowler

Satyam Shivam Sundaram

by Theievery Corporation

String Attached

by Jim Flower
Background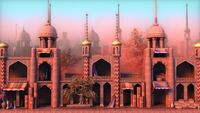 The Bazaar's background consists of a scene from a city from the Islamic World. Some of the buildings present Persian characteristics. A common characteristic of the Islamic art is the use of geometric pattern, which appears on the buildings from the Bazaar's background.