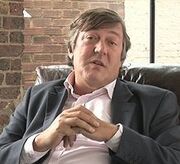 Stephen Fry is a British actor and the narrator for the LittleBigPlanet games. He is not only the narrator for the LittleBigPlanet games, but also stars as a video game hero-villain Reaver in Fable 2 and 3. He is also the narrator for the english version of the toddler show Pocoyo created by Guillermo García Carsí, Luis Gallego and David Cantolla. As one of the most literate, well educated people in the UK, Stephen Fry adapts well to connecting to the older and younger generations to the LittleBigPlanet games. His charming way of twisting words instantly connects the player to the LittleBigPlanet world.
'On LittleBigPlanet, you're a little sack person. This is you. Aww bless, you're quite a cute one.' Quote from Stephen Fry from LittleBigPlanet.
A truly wonderful game for all ages. And a truly wonderful man to help the gamer along their way.
Community content is available under
CC-BY-SA
unless otherwise noted.