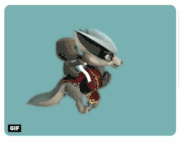 Rusk is a gray wolf pup who played the role of Sackboy's partner in crime during the early-to-mid stages of LittleBigPlanet 3's development, before being cut from the game.
She is known to exist in the "Alpha" build of LittleBigPlanet 3, revision r513946, dated September 2013.
Her model, animations, textures and code are fully in-tact and functional.
She was a sackbot model too.
Gallery