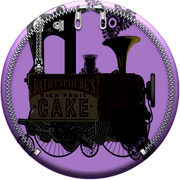 Runaway Train is the nineth level in LittleBigPlanet 2, by Victoria von Bathysphere.
Strategy guide description
Together, your Sack Person and Larry Da Vinci venture forth to the Far East to meet fellow Alliance member Victoria von Bathysphere. However, the moment they arrive, the Negativitron strikes again! It descends upon Victoria's castle,forcing her to flee as her home is overrun.
Moments later, her train comes careening toward the dynamic duo and shakes to a thunderous stop. Distraught and filled with self-doubt, Victoria is inconsolable at losing her home. Worse still, The Negativitron has stolen her army of Sackbots and mutated many into horrific abominations.
In spite of the tragedy, Larry sees this as an opportunity for your Sack Person to take on it's first Alliance mission. Learn to master the Grabinator as the train zooms to the castle.
Prizes
Costumes
Aviatress Gloves
Aviatress Headgear & Hair
Aviatress Jacket & Top
Aviatress Scarf
Aviatress Trousers
Cupcake Skin
Steam Sack Helmet
Steam Sack Suit
Stickers
Corner Swirl Motif
Iron Cakestand
Jam Logo
Kettle Lady
Oval Frame Sketch
Paint Splodge---Black
Paint Splodge---Navy Blue
Paint Splodge---Purple
Paint Splodge---Terracotta
Paint Square---Dark Purple
Paint Square---Gold
Paint Square---Plum
Swagged Skirt
Tree Motif 1
Tree Motif 2
Union Jack
Victoria Ego
Decorations
Cream Swirl
Round Doily
Steampunk Pipe
Materials
Floral Wallpaper
Jelly---Orange
Jelly---Strawberry
Light Brass
Purple Quilted
Objects
Antique Light Bulb
Vanilla French Fancy
Wrought Iron Swirl
Level Complete
Costume: Cupcake Hat
Material: Jelly---Lime
Music: 'The Lab' IntMusic
Collect All
Decoration: Icing Drips
Decoration: Picture Frame---Teapot Train
Music: 'Panic'
Aced Level
Costume: Flaskboy Headpiece 1
Costume: Sack-in-a-Clock Hat
Decoration: Picture Frame---Gentleman
Glitches
There is a glitch which you can escape the level from. Pick up another player, go behind a layer, jump behind the train and throw the other player, if done successfully you should escape the level. You may find random unused stuff such as a Cake Meanie which can be seen in early LBP2 trailers.

The first time you get Grabinator, go to the train with the Prize Bubbles inside a circle with 2 players or more. Grab a block and some how your Sackperson will run to the wall quickly and the block will disappear. Also, sometimes the Checkpoint will fall out.
Trivia
This level may be a reference from the infamous 'Train Bomb Survival' levels from LittleBigPlanet, as it is on a train.
This level is the first time you use the Grabinator.
The train does not move, it just has moving gas floor.
You cannot touch the floor as gas is covering it.
This is the first level in Victoria's Laboratory.
This is the first level where you have animated materials in prize bubbles. These materials are: Jelly-Orange, Jelly-Strawberry and Jelly-Lime.