Rookie Test is where Larry Da Vinci introduces you the basics of LBP2 gameplay.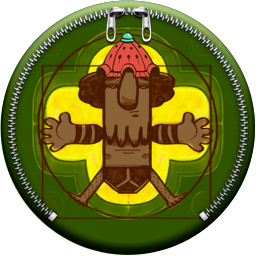 Walkthrough
After being saved from the clutches of the Negativitron, Larry Da Vinci tests you to see if you are worthy to join the alliance. First, you learn the basics of how to jump and move. From there you come to a door with a portrait of young Da Vinci and young Victoria. You will need to place a sticker there, which in turn, helps you ace the level. The next room you enter involves learning what score bubbles are and what prize bubbles are. If you didn't sticker the portrait, you are asked to cross a bridge. The bridge falls and you are taught how to get out. The next room you enter teaches you how to use stickers. You have to sticker your way out of that room on the cartoonish version of the Vitruvian man. The next room introduces bounce pads. There are prize bubbles on the ceiling, you have to be patient and wait for the extra bounce pads to rise from the back of the room, and the sides, over the doors. As soon as you continue on, some of the prize bubbles are easy to get except for two that are hanging on the bridge. Walk into the small bridge enough and they will fall down. After you jump across, there are prize bubble accessories for the Play Station eye. At the end of those bubbles is your first audio prize bubble. Finally, you are introduced to the ending of each level, a scoreboard.
Prizes List
Stickers
Curved Iron Support Sketch
Unfinished Old Man Sketch
Decorations
Objects
Materials
Costumes
Wooden Knight Ruff & Armlets
Wooden Knight Shield & Sword
Music
'Regal Fanfare' Stinger 1
'Regal Fanfare' Stinger 2
PlayStation EYE
Black and White Photo Frame
Aced Level
Costume: Flyboy Wings
Decoration: Green Tassel
Level Complete
Costume: Belly Dancer Hair
Costume: Flyboy Skin
Music: 'Da Vinci Tutorial' IntMusic
100% Items Collected
Sticker: Cog Sketch
Sticker: Chair Seat Sketch
Community content is available under
CC-BY-SA
unless otherwise noted.