This article may require cleanup to meet the LittleBigPlanet Wiki's quality standards.
Please discuss its issues in the comments.

Popit Puzzles or Popit Academy is a complement to the tutorials. These interactive mini levels focuses on key aspects like the use of materials or experimentation with logic. The depth of the logic tools are especially promising as these will be key to making many of the levels narrative-driven ones, where creators will use if/then outcomes to tell in-game stories. Lastly, it will be a relief to longtime fans that you can now edit levels while playing. With the Power-Up tool, you don't have to switch between Play and Create modes to make design changes, no matter how slight or significant. Si Begg composed both Term One and Term Two music of Popit Puzzle.
Characters
Levels
Term One
Materials

Danger Tools

Corner Editing

Connectors
Term Two
Advanced Connectors

Tags and Sensors

Physics Tweaker

Material Tweaker

Emitters

Velociporters & Teleporters
Trivia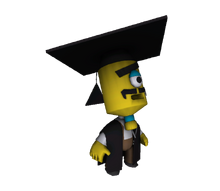 Newton had flunked Popit Academy, as revealed from Two's Company.

There happens to be a pin called 'Back to School' where one must wear Newton's outfit to any Popit Academy level.

Larry Da Vinci seems more forgetful in this.
Popit Professor was meant to teach the player instead of Larry. He is used in the beta as a placeholder for Pinky in Masque Maker's Tower.
Gallery