The PlayStation Eye is a digital camera device, similar to a webcam for the PlayStation 3. The technology uses computer vision and gesture recognition to process images taken by the camera. This allows players to interact with games using motion and color detection as well as sound through its built-in microphone array. It is the successor to the EyeToy for the PlayStation 2, which was released in 2003. The PlayStation Eye is also collaborated with the PlayStation Move, the motion controller for the PlayStation 3.
It was replaced with the Sony PlayStation Camera for the PlayStation 4, however it works the same as a PlayStation Eye.
Compatibility with LittleBigPlanet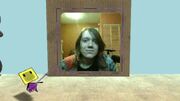 You can use a PlayStation Eye to take a picture of yourself or an object with different frames. The picture then becomes a sticker, which you can then attach to a surface. Once a picture is taken, you can find it again in your pictures section in your Popit, and repaste it with the same frame. The PlayStation Eye can be used to take pictures and be transferred into stickers to be used and shared in LittleBigPlanet.
Compatibility with Sackboy's Prehistoric Moves
The PlayStation Eye is required in Sackboy's Prehistoric Moves. As the PlayStation Move relies on the PlayStation Eye, it is essential that a PlayStation Eye is connected to the PlayStation 3. Apart from that, Sackboy's Prehistoric Moves has no other features that support the PlayStation Eye.
Community content is available under
CC-BY-SA
unless otherwise noted.