MyMoon is the third planet/type object in the Pod menu. It is the canvas for levels. MyMoon is a huge chunk of LittleBigPlanet and without it, there would be no community levels, a notable portion of LittleBigPlanet.
The MyMoon is, obviously, a moon. Its craters contain a vast possibility of locations for the future levels. On MyMoon the player has all the power to create their own level using Tool Bag, Goodies, stickers, and decorations. The player can show his/her creativeness with Score Challenges, Survival Challenges etc.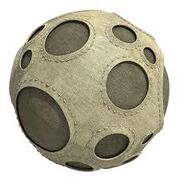 and also be saved for future levels.
The moon is naturally made out of Brown Canvas however in LittleBigPlanet 2, LittleBigPlanet 3, LittleBigPlanet PS Vita and LittleBigPlanet Karting, you can customize your very own Moon using Materials, Stickers and Decorations and you can change the lighting and Background.
In LittleBigPlanet 2, LittleBigPlanet 3 and LittleBigPlanet Karting the Moon is there as soon as you get to your pod, so those that LOVE creating levels can do it ASAP. However, you'll need to do some tutorials first.
In LittleBigPlanet 3 a new level type, Adventure Crater, was added to the moon. These show up as hexagonal tiles instead of a circle.
Trivia
More on this topic
Videos
Community content is available under
CC-BY-SA
unless otherwise noted.