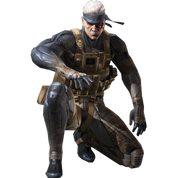 MGS1 "Encounter" Remix is a song from the Metal Gear Solid Pack. It was composed by Kojima Productions and was remixed by Kenneth Young.
Artist information
Kojima Productions
Kojima Productions is a gaming company created by Hideo Kojima. They used to work on Metal Gear Solid, but later reformed outside of Konami, the owner of the Metal Gear Solid license.
Kenneth Young
Main article: Kenneth Young
Kenneth Young, also known as Kenneth C M Young, is a sound designer who works at Media Molecule and has created sound pieces for LittleBigPlanet and LittleBigPlanet 2. He mostly does instrumental music and some interactive music pieces for both games.
Community content is available under
CC-BY-SA
unless otherwise noted.