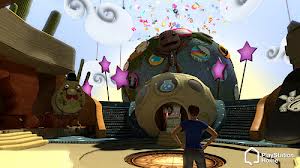 LittleBigPlanet Playground is the LittleBigPlanet-themed area in Playstation Home. Players explore three different areas in the Playground, and within the main location there are areas themed to the first LittleBigPlanet.
World Description
In the main area, LittleBigPlanet Playground, players appear in the centre, on a Sackboy Symbol. In front there is a MyMoon with Sackboy on top which serves as a LittleBigPlanet Shop, where you can purchase clothing, furniture, a Penthouse and avatars. Behind the MyMoon is a giant Earth with pins which serves as a teleporter to the Creator mini-game. To the left, there is a cave leading to a mining area, a statue of Dumpty, a poster board and a walkway upstairs. Upstairs on the left there is an area dedicated to the Canyons theme, with a mine cart that travels left to right then down. There is also a changing booth saloon which serves as a teleporter to the Mini-game area called LittleBigDerby, a rootin' tootin' shootin' game that can played with up to eight players. Upstairs to the right is a Gardens themed area with themed items including a bird on a tree and a statue of the King. Next to the King is a board with a camera, this is a mingame called 'Snap Happy!'. Both sides on the higher floor are connected together with a bridge. To the right (on the lower floor) is a walkway to go further down into a Wedding-themed area with a LittleBigPlanet 2 Trailer playing on-screen. Finally, at the back is a huge pirate ship on cloud waves with a Sack Pirate at the bow.
Special Features
-Canyons themed area with LittleBigDerby Mini-game
-Sackboy statue
-MyMoon Gift Shop, selling LittleBigPlanet-themed merchendise for Playstation Home
-Gardens themed area with 'Snap Happy!' Mini-game
-Wallpaper Creator Mini-game
-Pirate Ship
-Underground mining area
-Wedding themed area with LittleBigPlanet 2 Trailer
Community content is available under
CC-BY-SA
unless otherwise noted.