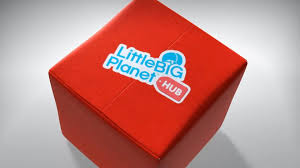 LittleBigPlanet HUB was going to be a free-to-play PlayStation Store-exclusive title for the PlayStation 3, announced in August 2013. It was originally going to be released at the end of 2013 but was delayed. As no new information has been released about it, it is rumored to be canceled.
Gameplay
All levels from LittleBigPlanet's The Gardens and LittleBigPlanet 2's Da Vinci's Hideout were to be included with the game for free, as well as a new LittleBigPlanet HUB-exclusive level. LittleBigPlanet 2's Team Picks would also be available to play on LittleBigPlanet HUB, however it was not confirmed whether players would be able to play other community levels from LittleBigPlanet or LittleBigPlanet 2, or if LittleBigPlanet HUB would have a separate online server. It would also include a new feature, weekly Challenges, which were eventually added to the main series in LittleBigPlanet 3.
All DLC purchased for other titles in the series (LittleBigPlanet, LittleBigPlanet 2, LittleBigPlanet PS Vita and LittleBigPlanet Karting) would be cross-compatible with LittleBigPlanet HUB.
Players would not need any of the previous LittleBigPlanet titles to be able to play LittleBigPlanet HUB, however, if a player had collected items from either LittleBigPlanet or LittleBigPlanet 2 they would be imported over to LittleBigPlanet HUB.
LittleBigPlanet HUB would also give players unrestricted access to LittleBigPlanet 2's Create Mode.
Current Status
As there has not been any confirmation that it is still in development, the game is most likely cancelled. Several of its features have been added to LittleBigPlanet 3. Update 1.22 of LittleBigPlanet 3 added Challenges, and the Seaside Surprise Level Kit shares similarities with what has been seen of the free level that was supposed to come with LittleBigPlanet HUB.
It was speculated that LBP 3 came for the PS3 because of LittleBigPlanet HUB. Others speculated that LBP Hub turned into LBP 3, but it's not known.
Gallery
Trailers
External links