LittleBigPlanet 3 has a total of 46 levels (20 levels needed to progress through the game, 10 challenge levels, 13 cutscenes, and 3 overworld/hub levels) following Sackboy's adventure as he collects the legendary heroes to stop the evil Newton and prevent him from unleashing the Titans upon Bunkum.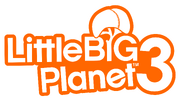 Prologue
Main Article: Prologue
The Prologue is the first area of the story where the player meets Newton after being teleported to Bunkum. It is one of the only areas without a major design theme. The area's Creator Curator is Nana Pud.
Characters
Levels
After Newton releases the Titans, he is possessed by them and makes a plan to destroy Bunkum. Nana Pud and Sackboy flee to Manglewood to search for the first legendary hero, Oddsock.
Book 1: Manglewood
Main Article: Manglewood 
Manglewood is the second game world and is based on classic Hollywood movies. This is where Sackboy meets Marlon Random, who tells Sackboy to find the three marbles and free Oddsock.
Characters
Levels
After the Green Titan is defeated, Sackboy and Oddsock head to the Ziggurat to find the second legendary hero, Toggle.
Book 2: Ziggurat
Main Article: Ziggurat
The Ziggurat is the third area in the game and is a snowy Russian-themed series of temples. The Creator Curator, Papal Mache, instructs Sackboy to find the three marbles to free the second legendary hero, Toggle.
Characters
Levels
Book Two: The Ziggurat
After the Yellow Titan is defeated, Papal Mache sends the heroes to Bunkum Lagoon to retrieve The Creative Heart from Newton.
Book 3: Bunkum Lagoon
Main Article: Bunkum Lagoon
Bunkum Lagoon is the last area and is based on Venice, Italy. The Creator Curator of the area is Pinky Buflooms, who instructs the heroes to find the two marbles to free Swoop, the last legendary hero.
Characters
Levels
Book Three: Bunkum Lagoon
The Purple Titan is defeated, and Newton is returned back to normal and reunited with his papa, Captain Pud. The Captain scolds Newton for releasing the Titans, and the group returns to Stitchem Manor, where Newton builds a dimensional transporter and sends the heroes back to Craftworld, where the story continues in LittleBigPlanet 3: The Journey Home.