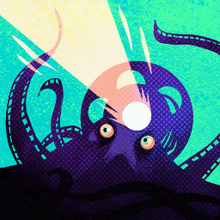 As you're going to Ziggurat, guess who comes to greet you? None other than the Evil Newton himself. But he is not here for a friendly chat with tea and biscuits, is he? No, he is here for a catching up on his latest schemes, for he is so close to having the Creative Heart all to himself! But who is this with you? Ah, the first of Bunkum's heroes, OddSock! But it doesn't look like your joining Newton's side soon. Oh and what a threat it apposes on Newton to realize that! And as a cause to such a major effect, Newton releases the first of the Three Titans, the Green Titan! Now it's time for you, OddSock, to demonstrate your skills to Sackboy and Marlon Random! Go, OddSock! We are cheering you on!
Collectibles
Decorations
End-Level Prizes
Level Completion Prizes
Swamp and Ceremony (Music)
Marlon Random (Costume)
Manglewood (Background)
Ace Level Prizes
Rough Wood (Material)
Movie Poster (Material)
Cylindrical Stage Light (Decoration)
Collected Gifts Prizes
Monster Jaw (Object)
Monster Tail (Object)
Reptile Suit (Material)
Community content is available under
CC-BY-SA
unless otherwise noted.