Let's Get You Match Fit is the intro cutscene to Da Vinci's Hideout in LittleBigPlanet 2.
 Transcript
Avalon Centrifuge: In a world where imagination is king, an acient evil stirs to threaten the very survival of the Cosmos.
They call it The Negativitron.
But what can stop the unstoppable?
This world needs only one thing. It needs a hero.
Larry Da Vinci: Shush Avalon.
Avalon Centrifuge: One man, devilishly handsome, impossibly statuesque: The only hope.
Larry Da Vinci: Stop it!
I say Sackboy, you are bally lucky to escape The Negativitron out there.
Lucky I was on the lookout, that is.
Out you get, my name is-
Avalon Centrifuge: I am Avalon Centrifuge!
Larry Da Vinci: Indeed you are, Old Man.
My name is-
Larry Da Vinci, and-
Avalon Centrifuge: Craftworld is in grave peril.
Toghether we, The Alliance, shall defeat The Negativitron!
Larry Da Vinci: Avalon, please! You never let me do that bit.
Avalon Centrifuge: Well I'm the best at it.
Hey Slick! Da vinci's gonna put you through your paces to see if you're worthy of The Alliance!
We shall not be defeated!
Se ya soon, Ace, I'm outta here!
Larry Da Vinci: Hurry back!
I should do this on my own, I really should.
But never mind that.
You'll needing something to get around Craftworld safely.
I present to you... your Pod!
Oh for the- why does this- ? Aha. I present to you - YOUR POD!
Off you trot, there's a good fellow.
I need you make sure you're Match Fit for the Alliance - just one or two simple experiments, um, tests.
See you in a tick!
Trivia
For Strange Reason, Davinci has a 2D cardboard hand when fixing his machine.
Video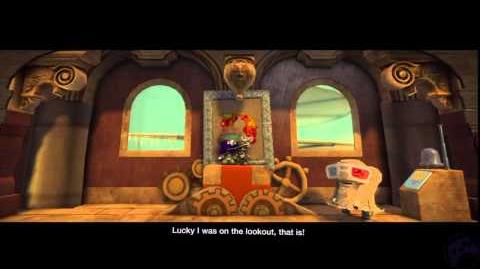 Community content is available under
CC-BY-SA
unless otherwise noted.