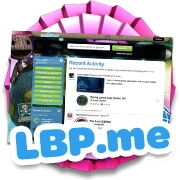 LBP.me is a website hosted by Sony, which acts like a social media site for LittleBigPlanet.
Through the platform, users can browse all publicly available LittleBigPlanet, LittleBigPlanet 2, LittleBigPlanet 3, LittleBigPlanet Karting and LittleBigPlanet PS Vita levels, whilst also being able to add the levels to their in-game 'Queue', or play them directly in-game.
The domain lbp.me was first launched as a Beta, and was only accessible to selected beta participants.[source?]
On December 15th, 2010 lbp.me was made publicly accessible to everyone with a Sony Entertainment Network account.[source?]
LBP.me Shutdown
On November 23rd, 2020, LBP.me was reported by various users on Twitter to have been shut down. Days later on November 25th, Steven Isbell via his @LittleBigPlanet account tweeted:[1]
We don't have any plans to shut down the LittleBigPlaner servers.
LBP.me is just down for some general maintenance and updates.
As of July 17th, 2021 LBP.me has not yet been restored, and it is unclear when and if it will return.
Trivia
On the main page, there is a unreleased female guide costume.