Homeward Bound is the final cutscene of The Cosmos in LittleBigPlanet 2.
Transcript 
Larry Da Vinci: Well, we did it! Or should I say you did it, Sack Thing!
Avalon Centrifuge: Slick - You rescued me and you saved Craftworld!
Larry Da Vinci: You did! And it all came together through team work.
Come on chaps, let's go home.
Dr. Herbert Higginbotham: I was eating a custard cream and it bloomed into the perfect laugh of the baby. From one... to another. Poofff.
Larry Da Vinci: Okayyyyy.
Avalon Centrifuge: Ha ha ha!
Larry Da Vinci: Ha ha ha!
Narrator: Do not take lightly your hopes, your ideas, your fantasies. Let them grow. Nurture them. Then your wildest imaginings will soon trip the dream fantastic, soaring into the Wonderplane and spreading into something altogether... magnificent. And perhaps you'll see them again the next time you visit LittleBigPlanet.
*the credits roll*
Video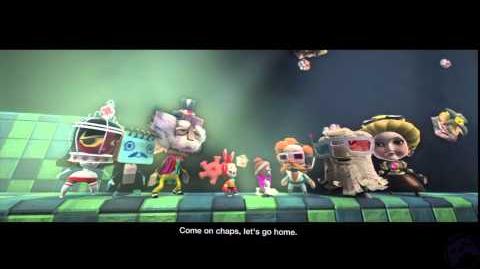 However, pressing

will skip any dialogue.
Community content is available under
CC-BY-SA
unless otherwise noted.