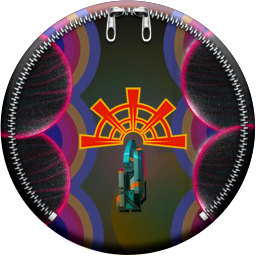 Full Metal Rabbit is the second level of The Cosmos in LittleBigPlanet 2. It is a 2-part level where you crash on the surface of the Negativitron 's planet (more likely, the place where he stores the stuff he sucks up), and have to go to the other side to free the Alliance from a force field. During the first part you have to defeat a horde of evil meanies and at the second you have to use a RoboBun and navigate through lasers, turrets and more meanies.
Prizes List
Stickers
Barcode
Cool Dude Pilot
Stripey Beard Logo
Crater Side
Green-Pink Cruiser
Pink Rock Towers
Pink Sweetie
Decorations
Torn Plastic
Meanie Horn---Straight
Pink Knitted Fringe
Materials
Pixelated---Brown
Pixelated-Blue
Objects
Vacuum Tube
Vacuum Head Top
Music
'Love'
'Meanies'
'The Cosmos' IntMusic
Level Complete
Costume: Flaskboy Headpiece 2
Sticker: Fish Constellation
Material: Modelling Clay---Blue
Collect All
Sticker: Orange Sunrise Icon
Music: 'Space'
Aced Level
Costume: Paperboy
Decoration: Meanie Wing
Material: Pixelate
Trivia
This is the only level with the certain kind of Sackbot which seems to have a big human-like body
This level's name is a pun on Full Metal Jacket, a dramatic movie.