Electricity is a hazard that appears in all LittleBigPlanet games. When you electrify something, it will turn a shade of blue and have a lethal electric current running through it. One simple touch and the player will instantly die.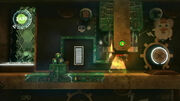 Trivia
Ehen an electrified object touches Water, nothing happens. However, in real life, if something electric touches water, the whole thing gets electrocuted.
Community content is available under
CC-BY-SA
unless otherwise noted.