Jurassic World: Dominion Dominates Fandom Wikis - The Loop
Play Sound

The DC Comics Premium Level Pack is a DLC for LittleBigPlanet 2 and, eventually, LittleBigPlanet PS Vita. The LittleBigPlanet 2 version was released in December 18, 2013, while the LittleBigPlanet Vita version was released on April 16, 2014. The Playstation 3 version is also compatible with LittleBigPlanet 3. The trophies of this DLC will not be obtained on the PS4 version of LittleBigPlanet 3.
Content
PlayStation 3/PlayStation 4 Version
The DC Comics Pack consists of the following new content:
Hero Cape Powerup
Wall Jump Surface Material and Wall Jump Tweaker
29 Materials
41 Decorations
18 Objects
174 Stickers
2 Costumes (with 14 Costume Pieces)

Cyborg Costume
Cheetah Costume

7 Music Tracks

5 Interactive Tracks
1 Cinematic Track
1 Sequenced Track

New Sound Object (with 60 Sounds)
1 Background
PlayStation PS Vita Version
The LittleBigPlanet PS Vita Version of the game contains all the same assets ad the main version. However, it also comes with an exclusive Captain Cold costume.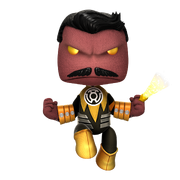 Costume Packs
Although there are only two costumes that come with the level kit, players can buy more costumes in separate packs.
DC Comics Costume Pack 1
Superman
Supergirl
Lex Luthor
Brainiac
Bizarro
DC Comics Costume Pack 2
Batman
Joker
Batgirl
Harley Quinn
Poison Ivy
DC Comics Costume Pack 3
Green Lantern
Sinestro
Killer Frost
Catwoman
Aquaman
DC Comics Costume Pack 4
Zatanna
Solomon Grundy
SHAZAM!
Wonder Woman
The Flash.
Levels
Who's Watching the Watchtower (Cutscene)
The Watchtower
Trouble at the Temple
A Chemical Overreaction
Ice Cold in Alaska
An Appointment with Doom
Sackthing vs. the Mecha Lex
Hero Race (Mini Game)
Season Pass
A Season Pass is also available. When purchased, you'll be granted access to each DC Comics-themed pack as it becomes available. As well as the Premium Level Pack for LittleBigPlanet 2 and Costume Pack 1, players will also gain access to three other Costume Packs, containing five costumes each, and the DC Comics Premium Level Pack for LittleBigPlanet PS Vita, which will contain an exclusive costume.
Trailers
Gallery
See Also