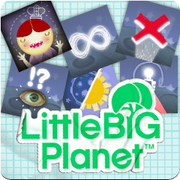 The Creator Pack 1 is the first and only creator pack released for LittleBigPlanet. This pack can be obtained from PlayStation Store for free. In LittleBigPlanet 2, you must download this to use the untethered Jetpack.
Creator Pack 1 Tutorials
These are tutorials to introduce you to the infinite lives checkpoint, tetherless jetpack, global lighting object, enhancement remover and invisible pistons. The Queen is present at these tutorials. They are already installed in LittleBigPlanet 2.
The pack grants access to the Infinite-Life Checkpoint, Tetherless Jetpack and Enhancement Remover, Global Lighting Object, Tweakable Angle Range, and Tweakable Visibility for Connectors levels. The first three have prize bubbles containing there namesakes, and the last two install their tweakable settings upon activation. None of the levels have scoreboards.
See Also
Community content is available under
CC-BY-SA
unless otherwise noted.