Character Customisation is a way for the player to make their character unique and different by applying various costumes and other clothing.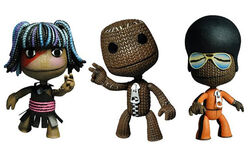 As well as the content unlocked by playing the
Story mode
, various new costume pieces can be
downloaded
from the PlayStation Store or from inside the game.
In order to customize the player character, press the

button to open the Popit Menu. After selecting Customize Character use the left analog stick or directional buttons to highlight different costume pieces and options. Press the L1 button or the R1 button to shuffle between pages. Press the

button to try an item on and press the

button again to take it off.
Most customization can be done through the Customize Character submenu, but Stickers and Decorations can also be attached using the Stickers and Decorations submenu. When applying stickers, the player's character is split into certain areas, the same as with costumes (e.g. placing a large sticker on an eye will only colour the eye and not the rest of the face).
First page (Materials):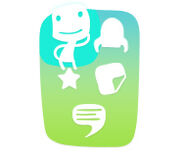 First page (My Costumes):
This section is for functions related to your costume. You can wash it to remove stickers and decorations, save it, load a saved costume, reset to default, or allow your Popit to compose a more random one if you're feeling lucky!
Second Page
The material, texture, color or pattern of skin.
Third page
Eyes: Material or type (or number) of eyes. You have to use these.
Glasses: Items worn in front of eyes
Hair: Hair style, used often in order to best differentiate between Sackboys and Sackgirls.
Head: Hats, clothes, or similar items that are placed on or around head.
Mustache: Mustaches or items to be used on or below the nose.
Mouth: Teeth or other item for the mouth. Many of these won't be properly seen unless your Sackperson's expression has been changed.
Fourth page

Feet: Shoes, boots, sandals, or other similar items for the feet.
Hands: Gloves and other item(s) that will attach to the hand(s).
Legs: Trousers (or Pants in America) or undergarments for the legs (skirts don't go here).
Neck: Capes, necklaces, or items that go around neck.
Torso: Shirts and jackets, and also dresses and suits. Selecting some of these may often change the Legs selection.
Waist: Things to wear around the waist of your Sack person, including tails.
Fifth page
This section lets you choose the menu colors for your Sackperson. Depending on the color you choose the color of some clothes will also change. The background player color also changes certain colors of weapons and menus, such as being used as the paint color for your Paintinator, or the loading screen.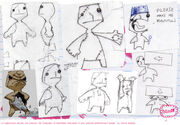 Functions
Reset Costume - Reset sackboy to be naked again.
Random Costume - Pick a random costume from your collection.
Save Costume - Saves costume so you can use it again without all the fuss of putting it back together later on
Wash Costume - Clears your Sack person of all stickers and decorations. Also washes away ashes and paint that stick on the clothes.
See Also
Community content is available under
CC-BY-SA
unless otherwise noted.