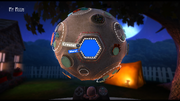 The Adventure Crater is a new feature on My Moon which allows players to create a series of levels called an Adventure. It can be distiguished by a hexagon-shaped crater, which is also slightly larger than the normal level craters. Creating a new blank adventure takes the player into a 'pocket world' in which the player can place levels. The player can place up to 15 levels. It allows the player to change the material of the land, as well as the material of the scenery on the border in the same way the player can customise his/her planet and Moon.
The main story mode is based on these adventures.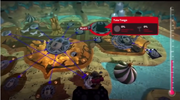 This feature is exclusive to LittleBigPlanet 3.
Community content is available under
CC-BY-SA
unless otherwise noted.